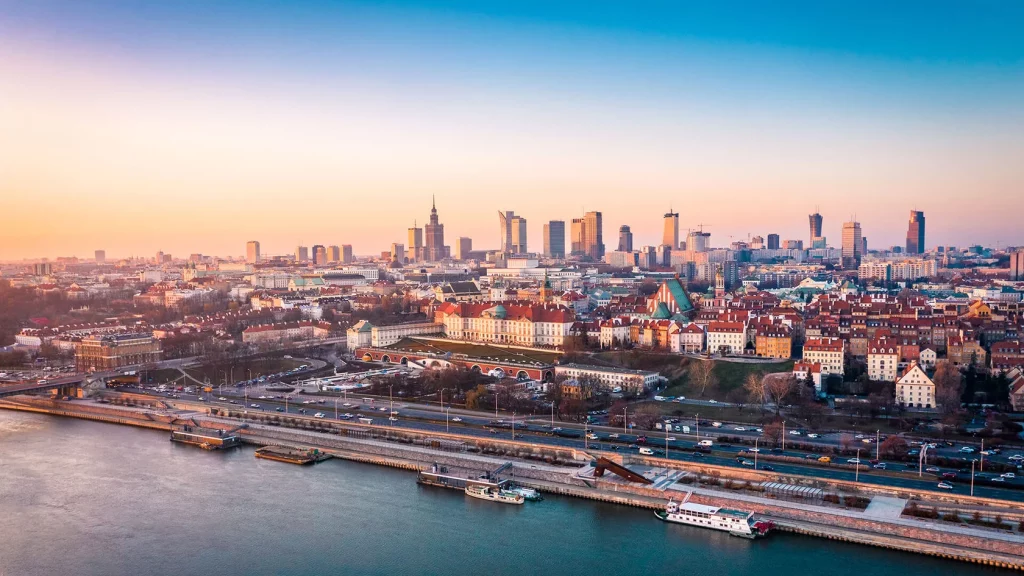 You virtual office will be located in Warsaw Poland
Optimize your office space and personal numbers
If you want to run your business without a real premises base here, it is necessary to consider using the virtual office service here. Registering a virtual office in another country will let you manage your business in a more convenient and efficient way. The whole process of virtual office registration can be simply looked at as business address registration in Poland.
The virtual office service is basically the same as renting a business address as required by the business registration bureau for all the operating businesses in Poland. Any operating companies have to have an address to start their business, and this is a prerequisite. This address registration is part of a procedure and needs to be registered by the National Court Registry to be permitted to start your business operation.
The benefits of company registration in Poland
Welcomed for the foreign companies

Being able to have a representative office in the country

Entrepreneurs are able to start their business on their own.

The virtual office makes it possible that you will have a secured business running abroad. The virtual office address is not your personal data, and it will be regarded as a single entity that is separated from all your personal data that is related business.
Nowadays, if your business is conducted remotely without needing a premises as your office base, it is avoidable to put your expenses on these unnecessary premises. So it would be a smart choice to rent an address as your virtue office, and this does not require any office equipment that you have to spend money on. The way of opening one is possible through electrical format.
Most virtual Offices are chosen by foreign businessmen who have business connections and want to develop their business here. The Virtual Office is being used as a legal way to construct your company in a good shape, generate income, save costs and allocate tasks. The staff of Virtual Office will be responsible for receiving letters, parsing letters and responding to letters. The representative will give his/her assessment of the incoming letters, and the letters will be reckoned and reported with the current company's situations.
It will give you a limitless right and time to have a work style and schedule that you have always dreamed of, go on a business trip, work from different places, spend more time with your loved ones, etc. You do not need to spend your time and and pay endless attention on the office work, instead, you can put all your focus on developing your business strategy and market. Choosing our offers and services is choosing for yourself a new and efficient business model.
The place of office can be rented virtually – it is applicable for the occupation areas such as:
businessmen

freelancers

copywriters

recruiters 

entrepreneurs

businessman who is living outside of Poland and wants to open a company in Poland

people who work remotely

businessmen who is planning to move their business abroad 

The Virtual Office is also an ideal option for the startup business in order to reduce business costs to the minimum and run their business efficiently.
Our experience
5
years of work in Poland
2500+
hours spent with clients
97,7%
successful cases
The services cost
Service/Package
Address registration
(virtual address) –

Correspondence address –

Receiving letters from
registered address
regularly – 
Receiving letters from
correspondence address
Notifying the emails that is
received from the
corresponding address –
Official letters only
Notifying the emails that is
received from the
corresponding address –
regular and registered
letters
Notifying the emails that
are received from the
corresponding address –
regular and registered
letters
Scanning the letters from
the corresponding address
and send them via email
Sending the selected
letters to the indicated
address from the corresponding
address once a month
(Parcel up to 2 kg)
Access to the virtual office
3 hours per month
Receiving parcels
up to 30 kg
(up to 10 pieces per month)
the need of draft
a contract by mail
prepayment for 1 month

prepayment for 3 months

prepayment for 6 months
Примечание для пакетов Стандарт, Бизнес, Премиум: Все судебные взносы и регистрационные оплаты, а также другие платежи, связанные с выполнением договора, включены в стоимость услуг при уставном капитале 5000 злотых и 2 учредителях. При удаленной регистрации дополнительно оплачиваются электронные подписи 75€ штука. 1 учредитель = 1 электронная подпись. Отдельно оплачиваются услуги бухгалтера (от 70€/мес.) и юридический адрес (от 17€/мес.)
// = get_template_part('template-parts/pricetable') ?>
Our advantages

High level of service
All documents that we need in the process of registration will be compiled by us competently and quickly.

Strict confidentiality
We do not transfer your data and your loved ones to third parties

Post payment
You pay the full cost of services, only when the result is achieved